Click here for a letter from our team on COVID-19.
Walker Architects designed a new freestanding Central Utility Plant for the UF College of Veterinary Medicine.
The old facility's existing equipment and infrastructure had become outdated and unreliable, presenting the risk of machine failure and restricting steam and chilled water capacity. Without proper functioning, heating and cooling for the entire College could not operate at ideal ranges, or it could even stop entirely. This risk, combined with the need for more space in the undersized facility, made it clear that the College was due for an upgrade.
The ability to accommodate the College's plans of continued growth over time became central to the design. Careful consideration was given to how the location, size, and configuration of equipment would advance these goals.
The building allots space to add equipment, and the configuration gives plenty of leeway for equipment to be modified in place with larger, higher-capacity components as needed. This expand-in-place strategy challenged the notion that design must include extensive unused square footage to prepare for future expansion.
Project Owner
Frank Javaheri, UF PD&C
Location
Gainesville, FL
Completion Date
July 2020
Project Size
11,872 SF
Cost
$4,750,000
Contractor
The Brentwood Company
Delivery Method
Design-Build
Partners
IC Thomasson Associates (MEPF)
SEG (closed - now Miller Engineering) (structural)
Universal Engineering (geotech)
The Brentwood Company (Construction Manager)
Sustainability Certification
Florida Green Globes: Two Green Globes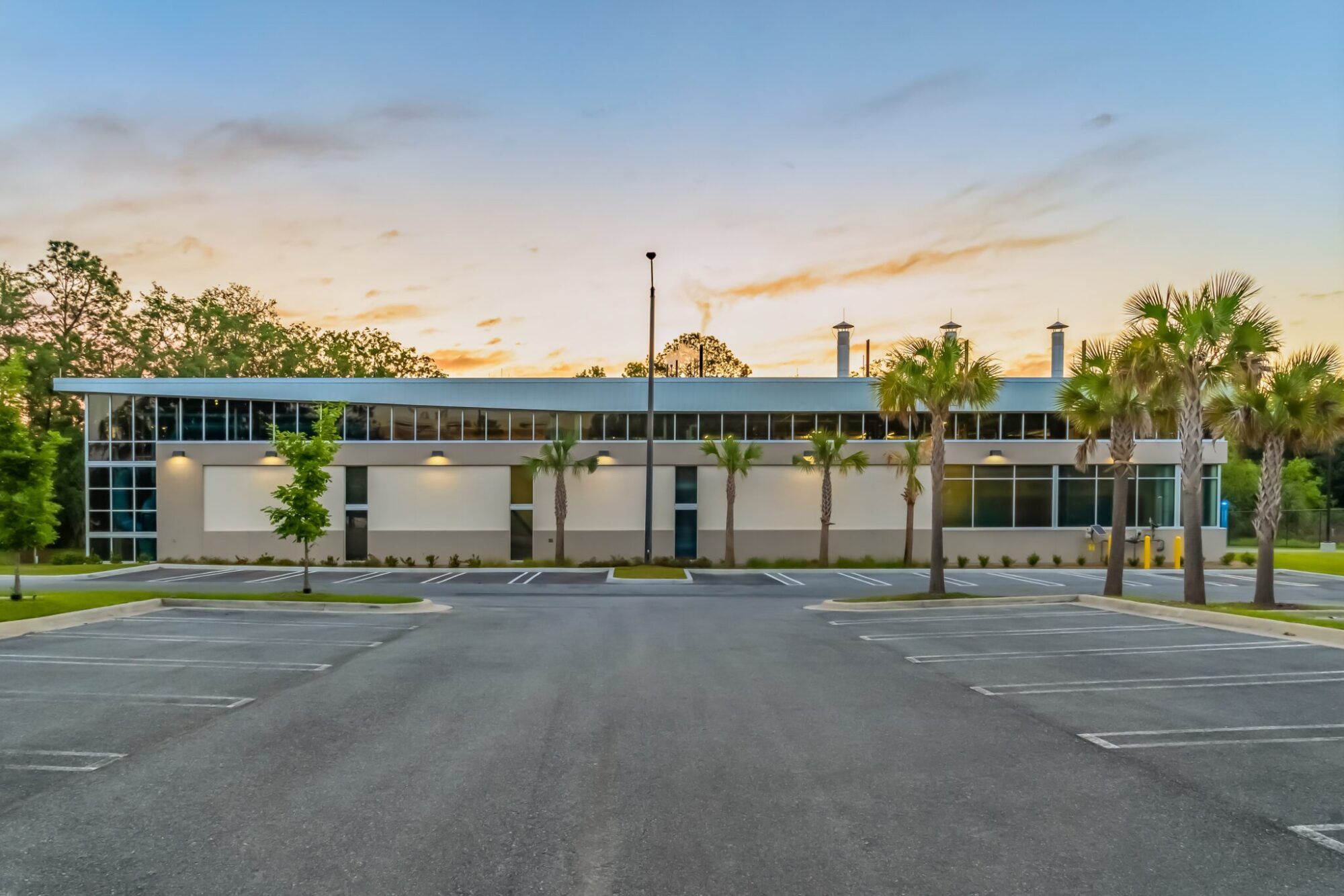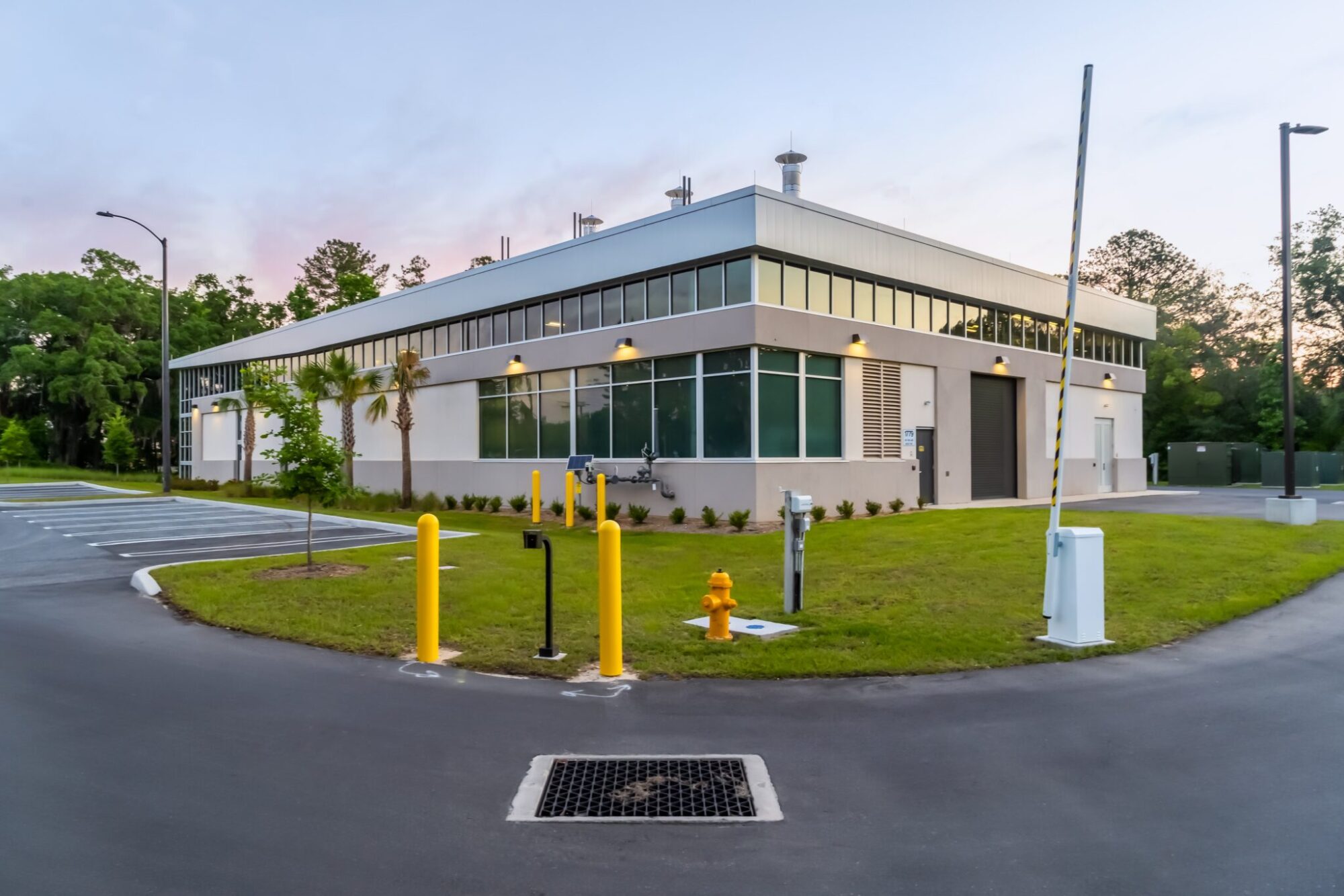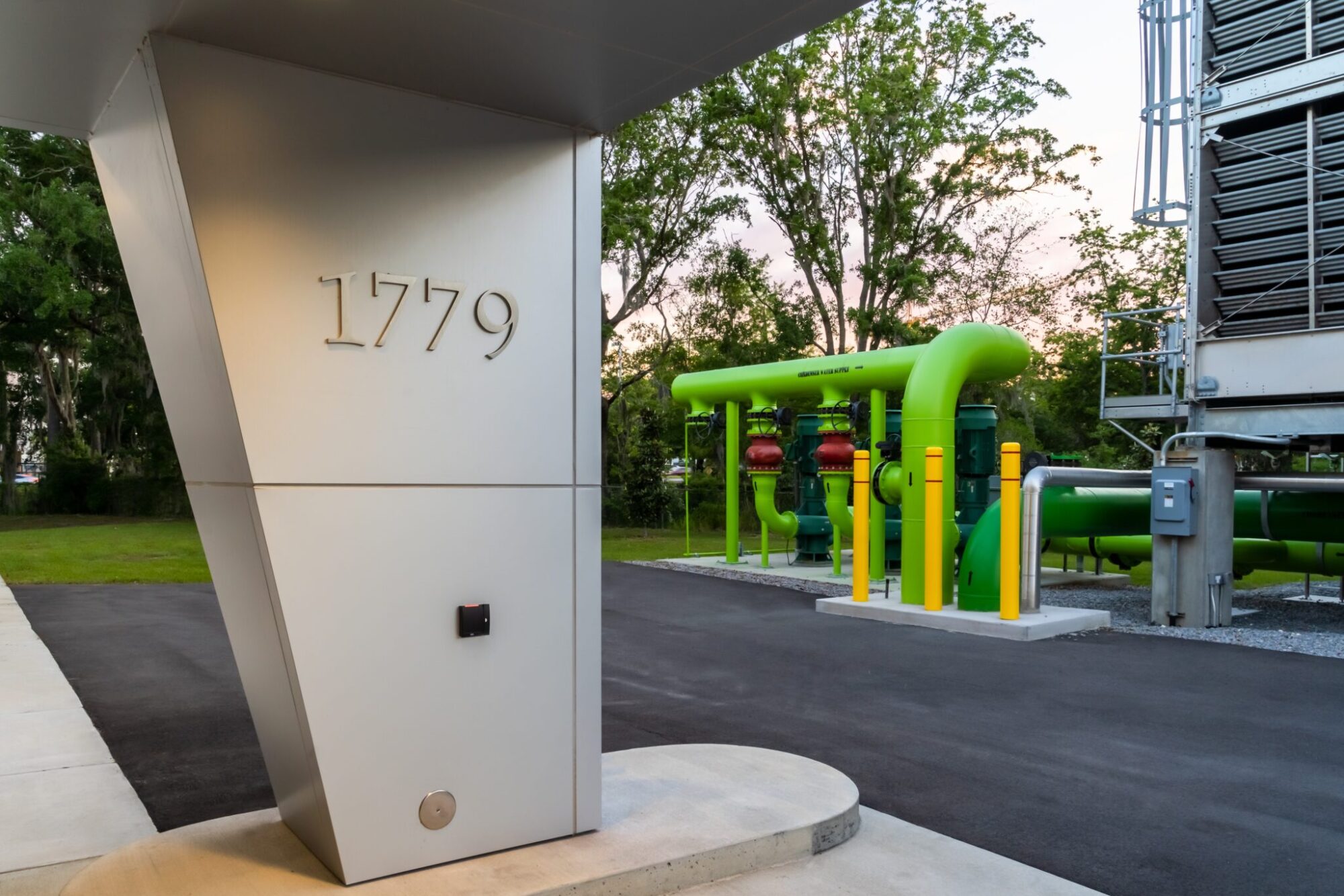 The plant faces a prominent entry to the College, unlike typical central plants that are typically tucked away out of view, and therefore needed an attractive exterior design. Large windows put the colorful equipment on display, while clerestory windows create an open and airy interior. The modern, sophisticated entry makes a powerful first impression, essential for a facility that offers regular tours. Steel construction was enveloped in metal panel, cement plaster, and glass, in harmony with the surrounding College of Veterinary Medicine area.
Inside, new machinery includes several magnetic bearing chillers, boilers, chilled water piping, and towers with 4,000-ton capacity.
The new building introduces several energy-efficient solutions. Combined heat and power systems were installed as an energy-efficient method to generate both heat and water. Traditional boilers with feedwater economizers and blowdown heat recovery improve the efficiency of the steam system. The plant contains high-efficiency chillers and chiller plant optimization software designed to reduce the overall electric use of the system over the range of loading.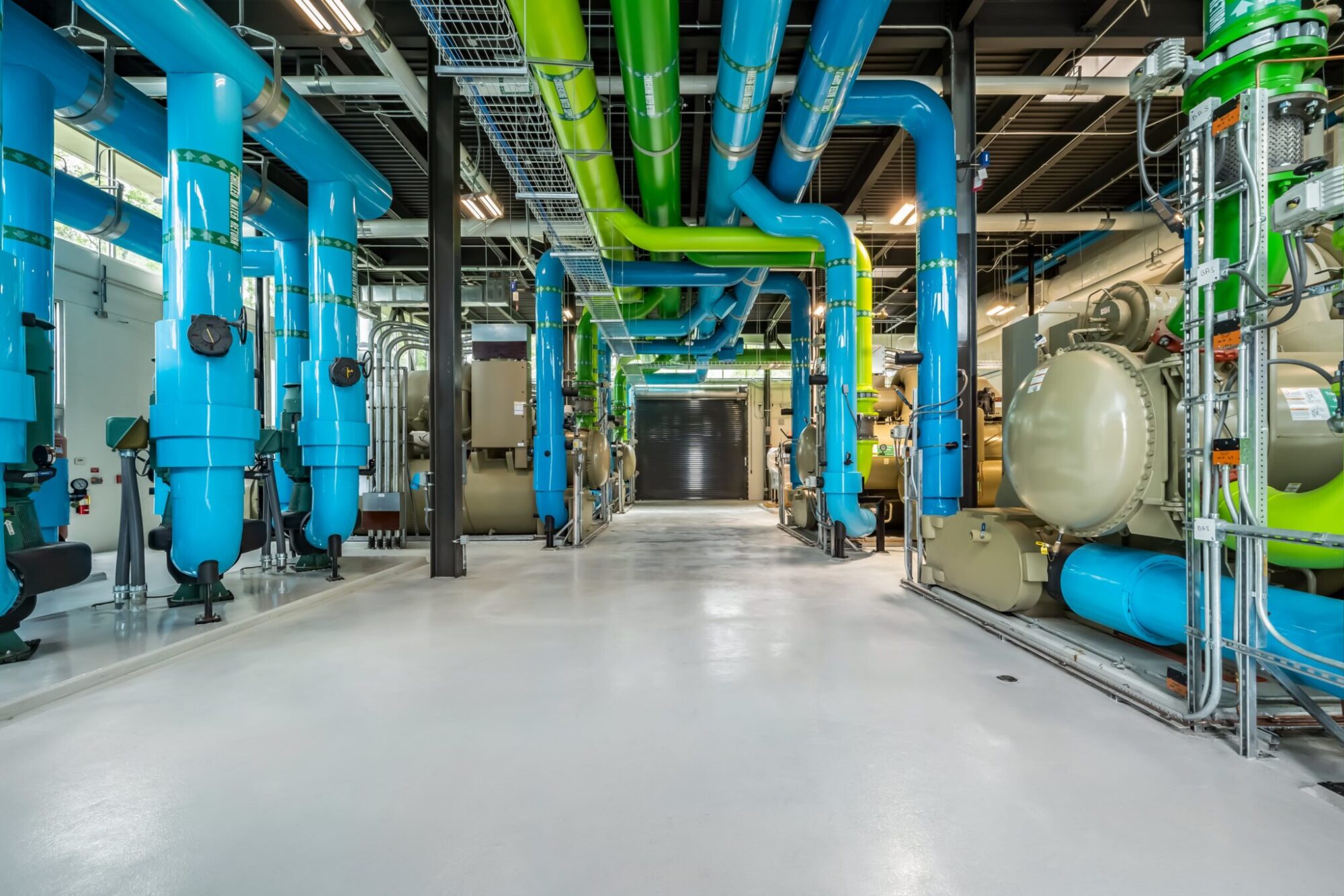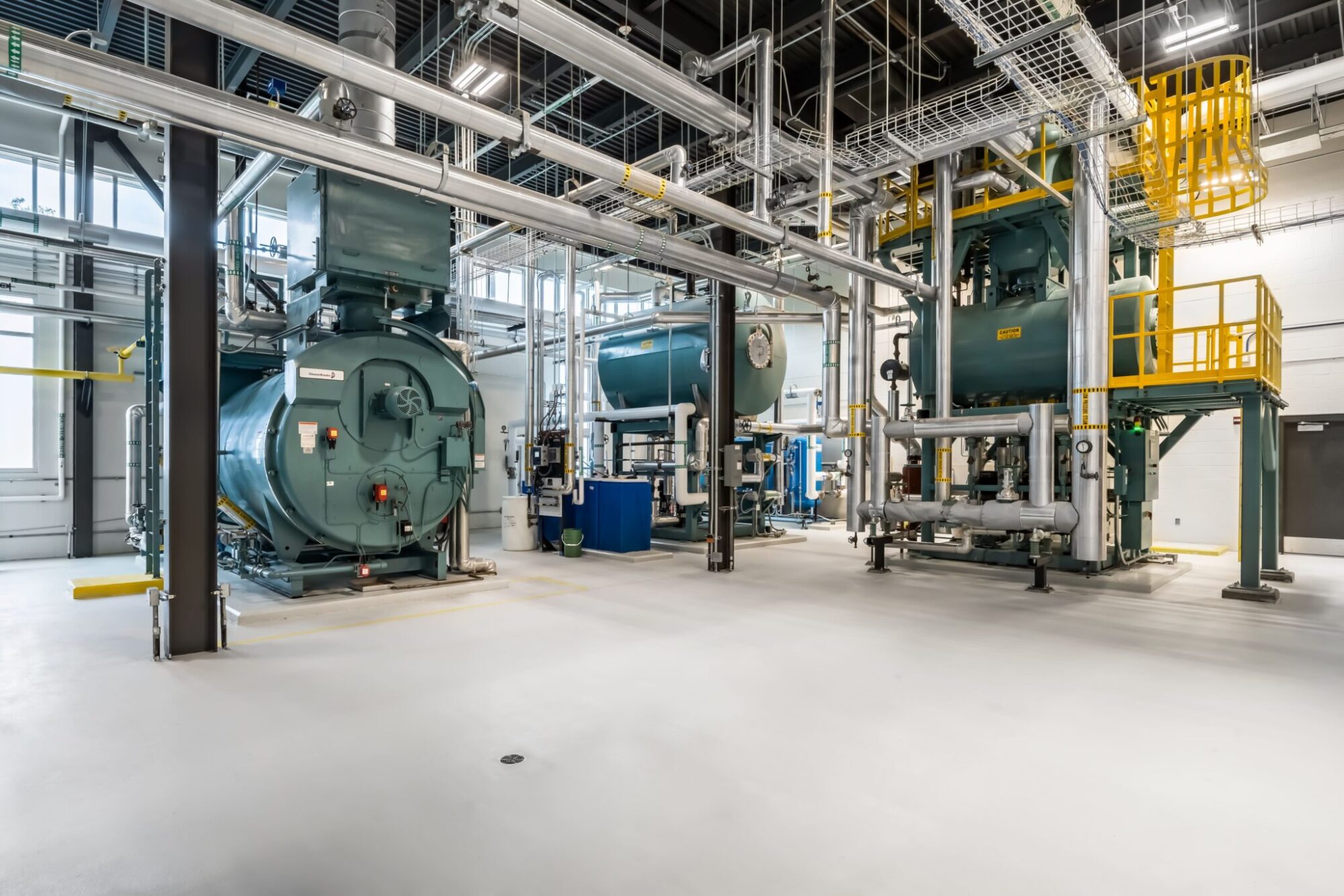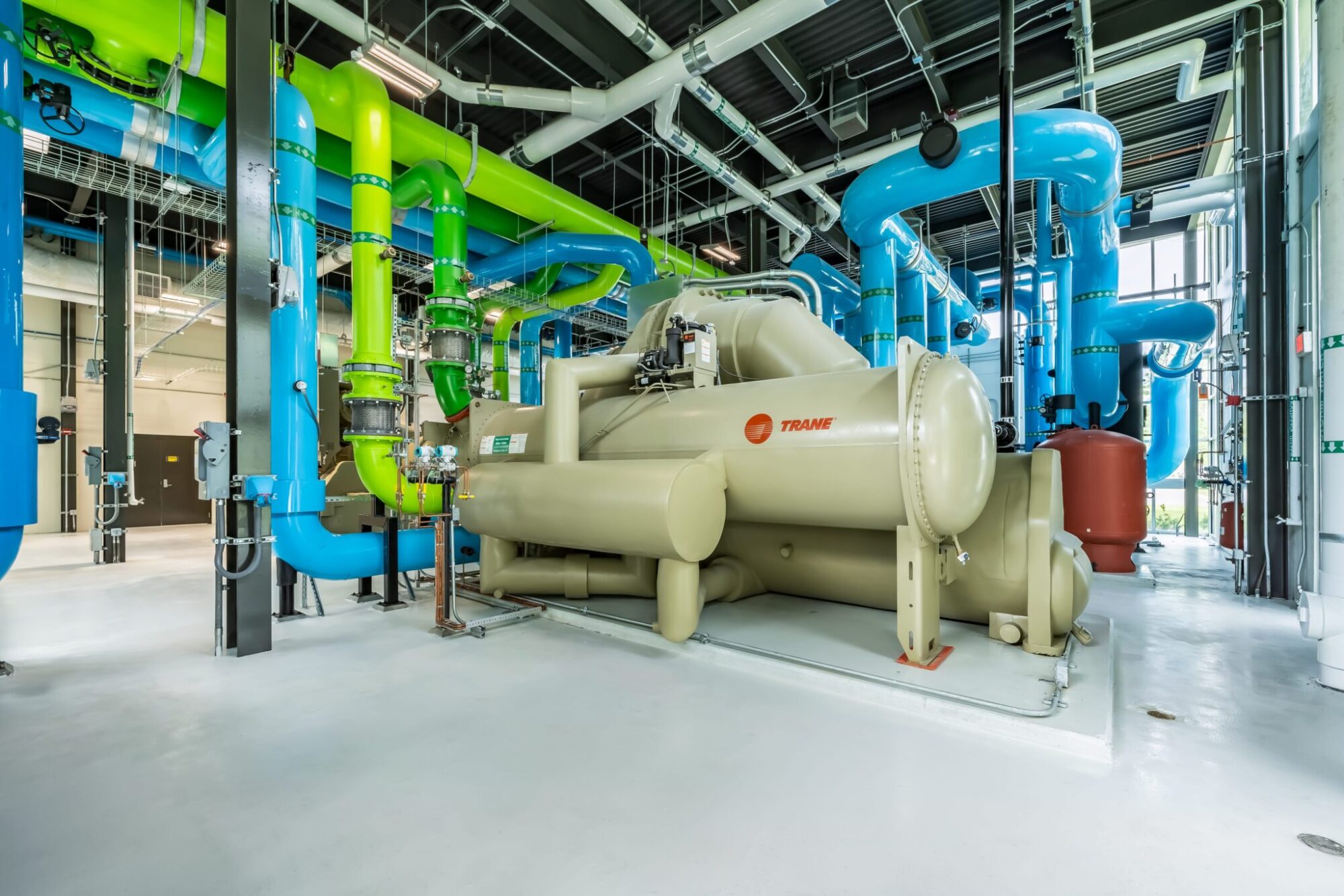 The plant is the first building on the University of Florida campus to receive Green Globes certification through the Green Building Initiative, with a rating of two Green Globes.
Through continuous conversation with the pre-construction contractor, our team created an informed design with cost in mind at every step. Cooling towers were strategically located behind the plant rather than on the roof to cut material costs. Value engineering throughout the design process prevented costly design decisions and our expand-in-place strategy reduced the overall building size and cost.
The College of Veterinary Medicine Central Utility Plant now operates safely, efficiently, and sustainably, with creative design solutions enhancing the campus in unexpected ways.