At the project outset, visioning projected a fresh Student Health Care Center which would feel welcoming, innovative, and student-centric. The new SHCC would embody wellness in a holistic sense, a space serving the body, mind, and soul of all patients, whether in need of treatment or well care.
The outbreak of covid-19 coincided with early planning discussions between the project design team and SHCC leadership. With it came a fresh sense of urgency and purpose. Covid-19 brought an additional level of complexity to the project vision: how could the project, in addition to meeting its original goals, also ensure a safe environment for all patients and providers in times of unprecedented healthcare needs? Together with our design partners, CannonDesign, CHW, Walter P. Moore, and Affiliated Engineers, we set out to help UF and the Student Healthcare Center answer this question.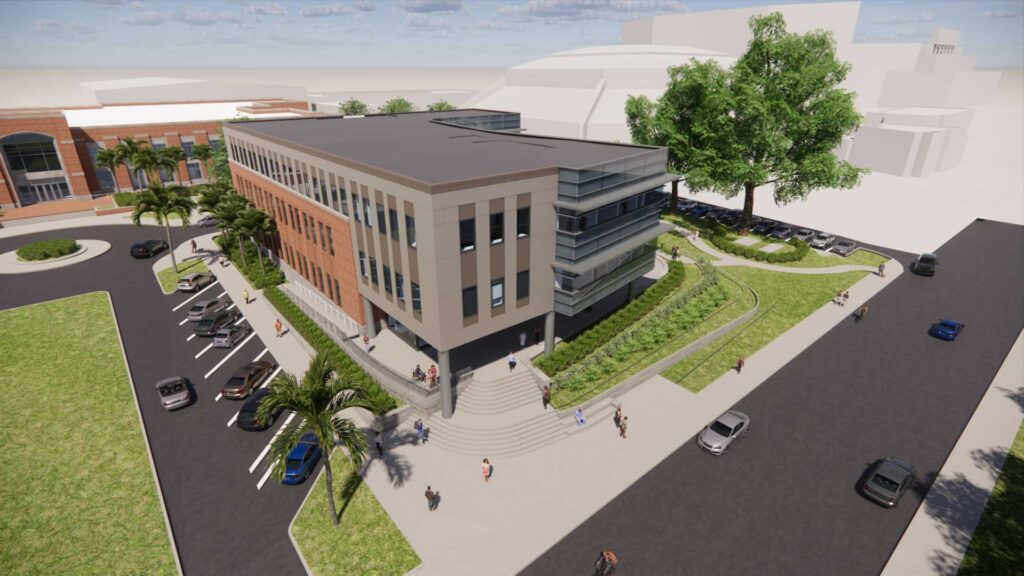 The project incorporates a dedicated infectious unit with a separate exterior entrance and waiting area. Project engineers are working to ensure a design for air supply which keeps contaminated air separate from the rest of the building and exhausts all airflow, rather than recycle it through the system. Designers are working to ensure the interior is not just aesthetically pleasing but also able to stand up to extra-rigorous standards of cleaning and ease of maintenance.
The project's exterior spaces have taken on a pivotal role in the design using the WELL building approach. Prior to the pandemic, exterior space was identified as the heart of the project, acting as a community-oriented hub and as a host for time spent outside either casually or as part of an event. The pandemic solidified the importance and potential for a large amount of programmable, flexible exterior space. 

A second story terrace, readily accessed from ground level via an open exterior stair and from the second-level interior spaces, allows the SHCC to host a variety of programming more safely out-of-doors. Additionally, ground level incorporates a terraced, landscaped entry sequence which provides even more usable exterior space, great for taking breaks, a moment of fresh air beneath the existing oak trees, or simply as a welcoming walk up to the main entry.