Construction is underway at the Norman Library's ground floor to transform the space into a fresh, functional home for the College of Education's Institute for Advanced Learning Technologies. The program includes new laboratory classrooms, a research lab, an updated IT suite, and an agile work area for graduate students and faculty that includes private and open workstations, new collaborative areas, and meeting spaces.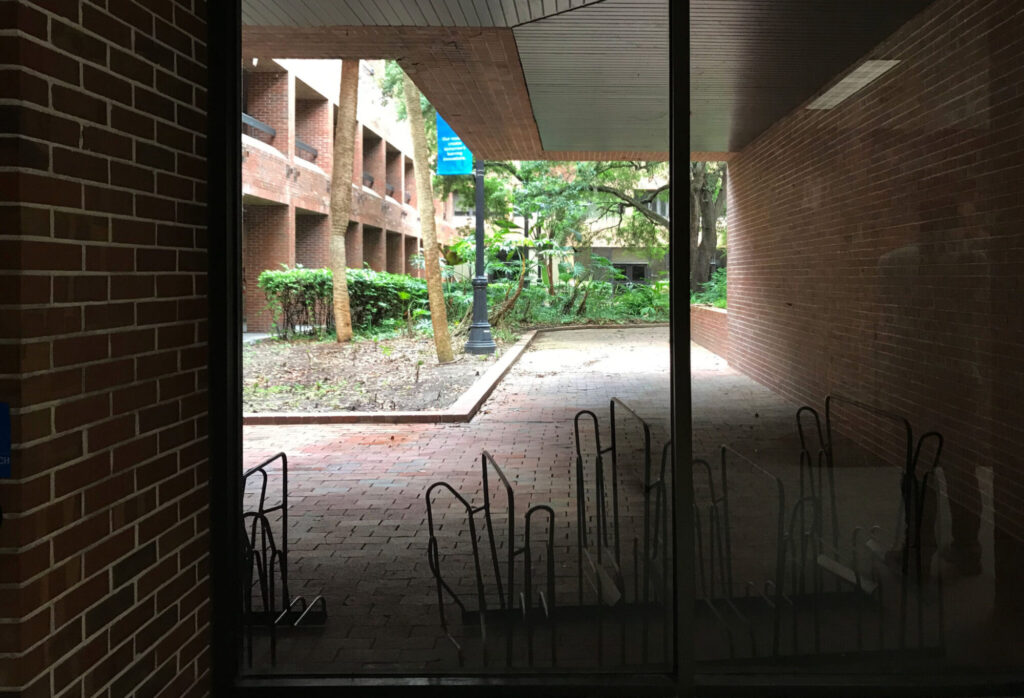 The renovation will completely refresh the interior space.
Before, low ceiling heights and limited access to natural light and stimuli contributed to a basement-like feel. The user group sought to introduce welcoming, exciting features that reflected the same progressive and forward-thinking efforts of the college's research.
Dropped ceilings are eliminated in all group spaces to reveal the undulating forms of the concrete slab overhead, maximizing the volume of these busy spaces. The exposed ceiling, building systems, and coordinated light fixtures provide texture and energy that matches the pulse of the large group spaces and corridors of the project. We took advantage of every opportunity to bring texture and color into areas that serve as information points or collaborative spaces, highlighting the places that bring people together to share and learn.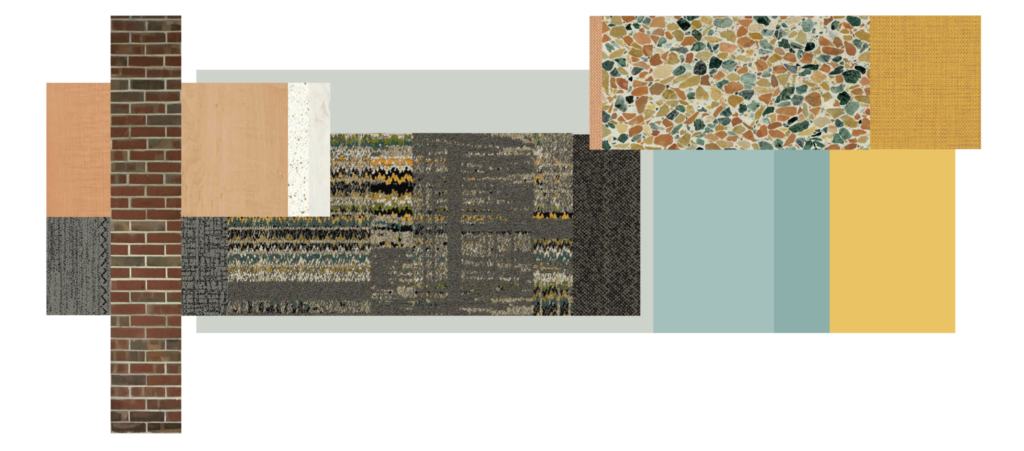 Textures in the materials, from terrazzo wall tile and splashes of vibrant carpet patterns to playful overhead light fixtures and felt drop ceilings, bring a tangible, biophilic atmosphere to a technology-driven space.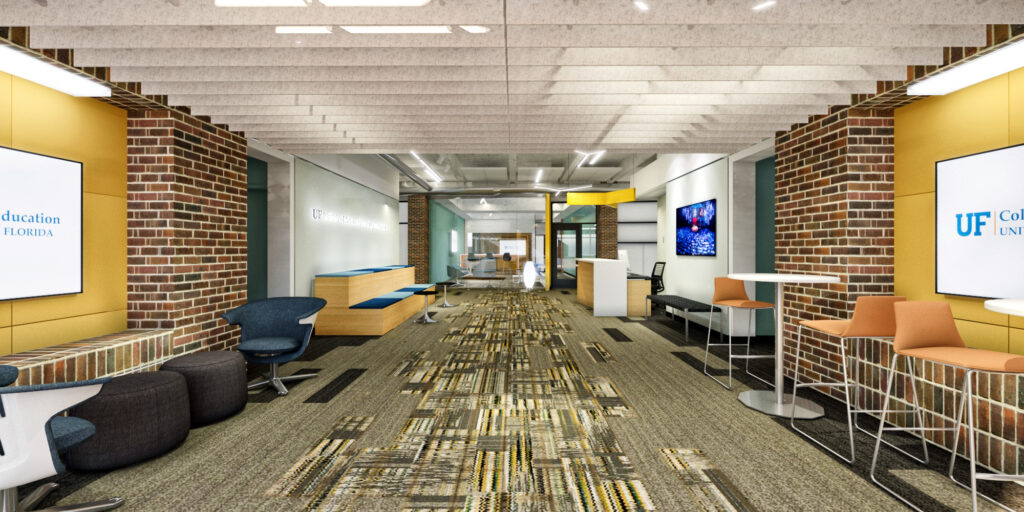 We looked to Anni Albers' textile work for inspiration in what kinds of color strategies could work well with the project's existing conditions. In the end, we settled on an approach that complements the existing "Norman brick" and playfully incorporates the quintessential University of Florida orange and blue. The space tells you you're at the University of Florida and signals that this is a unique place within the university and even within the College of Education itself.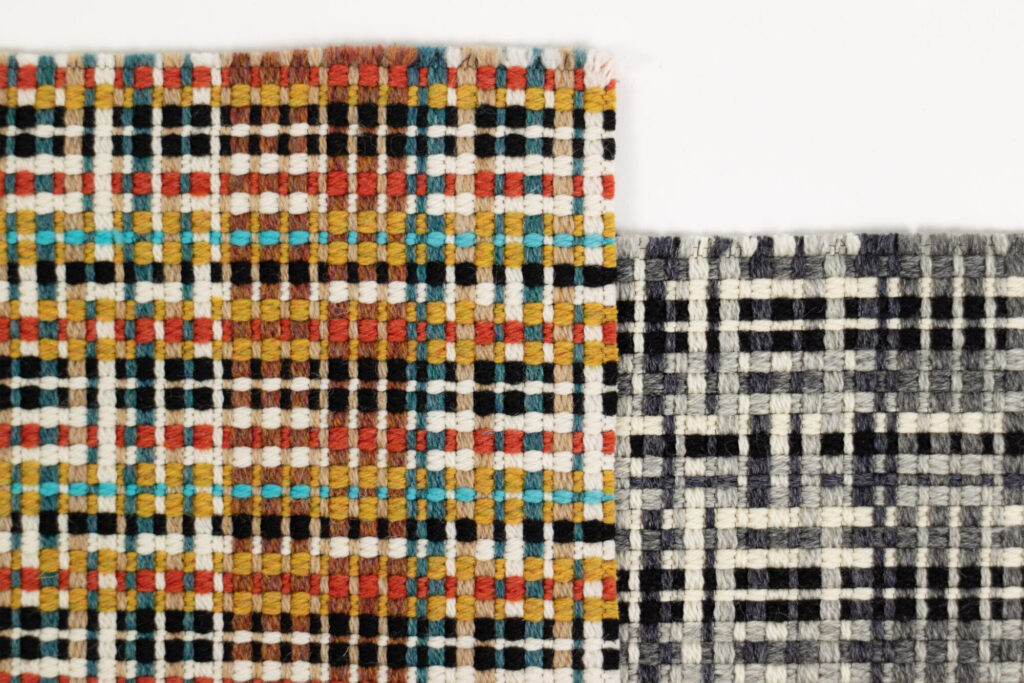 The verdant tinge of the great oak tree in the center of the Norman courtyard turns the blues a little green, while the technology-driven energy of the Institute's research coaxes the orange toward yellow. Meanwhile, the reddish-mauve textures of the brick column wraps ground the project in its context in the Norman village. In a way, the textile inspiration we're drawing from kept us thinking through the entire design process about how the past, present, and future of the building can be woven together as distinct components of a unified whole.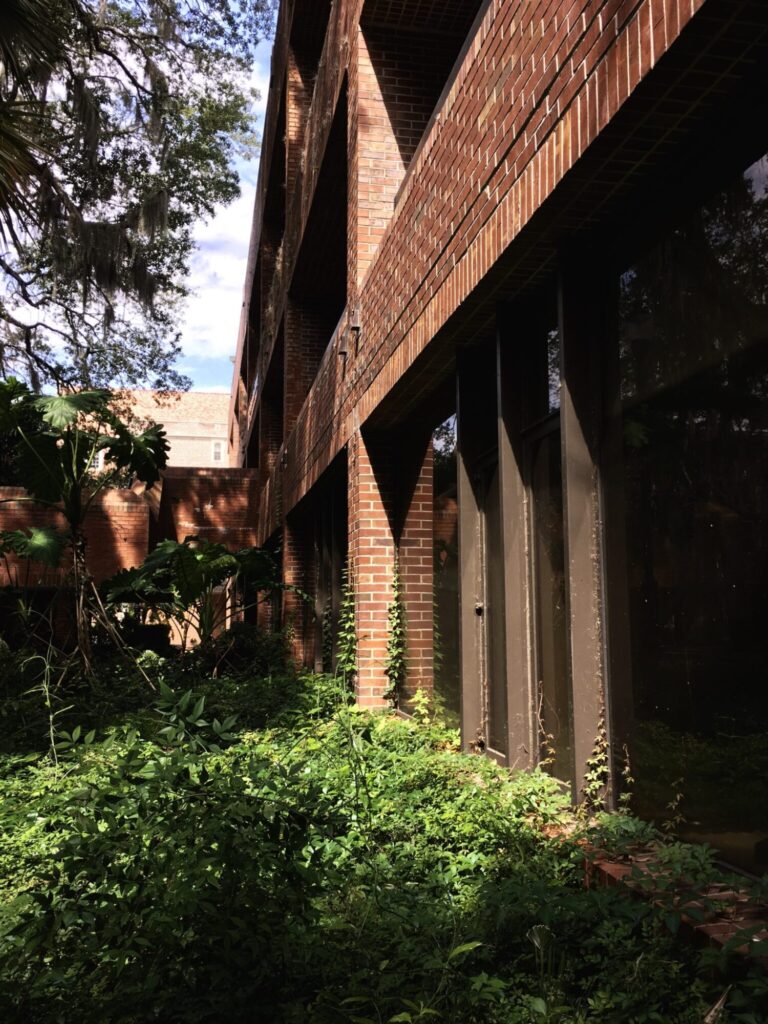 The plan itself incorporates faceted glass edges at the four "jewel box" classrooms at the project center. These classrooms are the heart of the program, where the college's unique pedagogy is put on display. The central demonstration lab, which will feature a rotating exhibit of working technologies at the center of the Institute's research, has operable glass walls that unfold to unite the entire floorplan and offer flexibility for events and gatherings.